Get ready to meet mistress #5. Another woman claiming to have had an affair with Sandra Bullock's husband Jesse James is about to come forward, RadarOnline.com has learned exclusively.  "She has been consulting attorneys and PR the past few days," the source told RadarOnline.com of the mystery mistress. "She may even come out this week."  The woman is looking to cash in on her relationship with Jesse but she has been turned down by several people in terms of representing her. Some reps feel the story is just not suited for them and others despise the White Power element that has emerged. So far Jesse has been linked to strippers Michelle "Bombshell McGee and Melissa Smith, fetish model Brigitte Daguerre and an unnamed woman represented by Gloria Allred.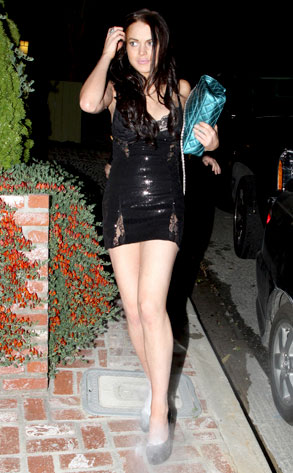 Last night, George Lopez made a comment about Lindsay Lohan during his opening monologue of his late-night show. The joke was about the white, puffing powder seen coming out of Lindsay's shoes on Saturday night, which everyone has seen – and also made fun of. Still, George managed to get under Lilo's skin just enough to send her a on a bit of a Twitter rant this morning. She wrote: "Thanks for the childish comment regarding baby powder in my shoes to loosen up the leather. Don't you have kids? U wouldn't wanna hear that about them, or would you? Act like a grown man, have some respect and dignity for yourself."
Kate Gosselin and her partner Tony Dovolani are having a harder time than we thought! In a behind-the-scenes clip shown on Monday's Dancing With the Stars, Kate was complaining that she's "stressed" while Tony admitted, "Nothing in dancing is natural to Kate." "He feels like I undermine him as a teacher," the mother of eight said to the camera before turning to her partner. "You're not taking into consideration how I learn!" Then she walked away saying, "I'm done, I'm done today."  Tony removed his mic pack and said, "I quit!" Kate immediately began to cry saying, "I don't get it!" It didn't take long for them to apologize. Dovolani said he "overreacted" while Kate divulged, "A lot of people quit on me in my life."  Kate missed steps, mouthed the counts and rolled her eyes after every criticism and wrong move.  Judge Bruno Tonioli called their routine a "nightmare… you go through the motions like a Stepford Wife. You need to get acting lessons!"
Dancing with the Stars partners Maksim "Maks" Chmerkovskiy and Erin Andrews played coy when asked about rumors that they're heating up off the dance floor. "We're married already!" Chmerkovskiy, 30, joked with UsMagazine.com after Monday's show. "We're way past the point of anything else."   Their chemistry was obvious on the dance floor as he and the ESPN correspondent, 31, earned a 23 for their fox trot. "I think this dance really fit my personality more, and we just had a great time out there," she told Us.   Someone will be eliminated tonight and John Stamos joins the Beach Boys in a performance tonight.
Hello Kitty has integrated into every market we can think of: stationary, furniture, cars … and now you can find her at the liquor store! Introducing Hello Kitty Wines.  The line of wines comes in four different varieties, priced between $19.99 – $29.99 and include: Hello Kitty Sparkling Brut Rosé – A deep reddish pink sparkling rose made from 100% Pinot Noir that has a frothy mousse as well as a pretty nose of rose petal and red currant scents. Hello Kitty Sparkling "Sweet Pink" (Half Size) – This semi-sweet sparkler sports a pale pink hue and has very delicate bubbles. 2008 Hello Kitty Angel White – This is a fresh, very "blanc" white wine made entirely from Pinot Noir free run juice. 2006 Hello Kitty Devil Red – Garnet red with brickish highlights, this is a classically rendered Pinot Noir that presents a seductive bouquet of wild flowers and forest aromas.  The line will hit your local liquor store within the next several months and the website will start shipping out samples by the end of next month.
A company in Germany has just released a new product that can turn any of your everyday foods into sparkly, glimmering goodies! It's an edible spray called Esslack and it can be applied to just about anything to be turned into a delicious gold or silver treat! Cookies, cakes, fruits, veggies, you name it, you can spray it!
Sources claim that several media outlets have pre-written obits for Lindsay Lohan, just in case her dangerous and crazy love of partying finally has her meet her end. Sources a major news outlets explain: "News outlets need to be prepared. However shocking a story it might be, they are in the business of breaking news fast and any preparation that can be done ahead of time is them just simply doing their jobs. We all scrambled when Brittany Murphy and Heath Ledger died and don't want that to happen again."
Vanilla Ice aka Robert Van Winkle revealed that he will be releasing a new album entitled WTF saying: "It's called WTF for a reason, and you will understand that reason when you hear it. It has everything from techno to hip-hop to country to acoustic. It will blow you away!" Vanilla Ice is even playing a stage at Glastonbury Festival this summer in the UK.
For her 40th birthday, Mariah Carey's husband went all out for his girl's special day. Nick Cannon bought his lady love a custom-made, pink Porsche!   Mariah took to her Twitter to share the news. She wrote: "Again, thank you so much to all who gave so much time & love… NC shocked me with a custom PINK porsche!!! And a huge trampoline! Yes, pink."
Have you seen the AT&T with Luke Wilson?  Well, Luke is "miserable" during the filmings, talking back to directors and requesting lines be rewritten for him. Insiders on set reveal: "There were some lines meant to direct the commercial in a certain way, but Luke downright refused to say the lines at all. Luke kept saying, 'I would never say that and I will not say that!' The staff and production teams were shocked.  "Luke will not shoot scenes with other actors. Any scenes that include Luke and someone else were shot with the actors separately. He would not do scenes with anyone, so doubles are used and the scenes are edited together to make the commercials work .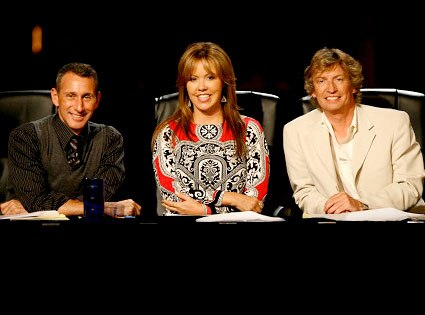 The Fox series So You Think You Can Dance is reportedly going through some serious changes for its upcoming season, one big shake-up being that now the top ten contestants of this year will be dancing with former competitors on the show! The alumni will now rotate week to week and dance with different competitors, and only one constestant will be sent home each week!
Courtney Love is dating hotelier Andre Balazs, the owner of the exclusive Chateau Marmont hotel in Hollywood and Uma Thurman's ex-fiance! Court says of her new love: "I'm in lurve. It's nice. Scary. I'm a great catch and he can be a bad boy but he loves me. He is the sweetest thing and he actually totally does respect me. "His manners are impeccable but he is funny too. He has properties everywhere and has given me the key to his apartment, but what is better than living in his hotel?"
Madonna is flying to Africa next week to reunite her adopted daughter Mercy with her biological family. And her son David is coming along too! Mercy's father, James Kambewa, will see his daughter after almost a year. "She [Madonna] promised to take them back to their homeland. She sees it as vital they understand their roots. Mercy's meeting with her family will be particularly emotional as it's the first time she's seen them since last summer," claims a source.
Jude Law and his ex-wife, Sadie Frost, have normally gotten along for the sake of their kids, but the actor is apparently seriously pissed about what she wrote about him in her autobiography!! A source claims: 'Jude has told Sadie that he wants to know exactly what is written about him. He is very worried that some of the revelations could be damaging to his career and upsetting for their children when they are old enough to read it. Jude has more than a bee in his bonnet about it and he has consulted Sienna's lawyers for advice. Sienna is also concerned because she doesn't know what Sadie will say about her either.'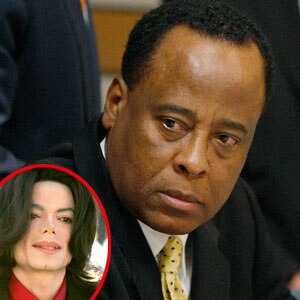 TMZ has learned doctors who worked on Michael Jackson at the UCLA Medical Center ran two EKGs on the singer, and at least one doctor who interpreted the results claims there was heart rhythmic activity both times.  Furthermore, sources tell TMZ Dr. Conrad Murray insists he was able to restart Jackson's heart at the singer's home before paramedics arrived and then maintained heart activity in the ambulance. Dr. Murray's evaluation contradicts paramedics at the scene who wanted to take Jackson to the morgue, not UCLA, because they believed he was dead. It also contradicts Joe Jackson's lawyer, Brian Oxman, who tells TMZ he believes Jackson was dead even before paramedics arrived at the house. Oxman says the weak pulse detected at UCLA was in reaction to resuscitation efforts. We're told the criminal case is shaping up as a legal war between medical experts, who will be interpreting medical tests and charts in various ways — always confusing for a jury.
Sandra Bullock
got a gift today that shows signs of life inside her Hollywood Hills home. 
A woman delivered several shopping bags from clothing stores like
Express
and one
Coach
shopping bag as well.
First, Tiger's Wood's alleged porn star mistress will be performing at a strip club down the street from the Masters and now the Hooter Girls will be there!!  Tiger Woods' newfound willpower will be put to the ultimate test when he tries to tee up at the Masters next week — because the ladies of Hooters will be holding a bikini competition right down the street.  The Hooters in Augusta — literally seconds from where Tiger will be smacking his balls around — will throw a week-long, golf-themed celebration … which includes competitions custom-made for Woods.   Among the activities — a putting competition and a long drive contest … a "Par 3" bikini contest.
Jim Belushi joined a different kind of mile-high club during a flight to Vegas this week where the captain calls the cops over a mid-flight argument.  The whole thing went down during the descent on a 40-minute American Airlines flight from L.A. to Vegas Sunday evening … a flight attendant tried waking Belushi up from a quick snoozer.  Jim — who clearly woke up on the wrong side of the aisle — made such a scene the captain called the tower and requested police presence at the Vegas gate.  Cops decided no crime occurred so Jim and the flight attendant were free to move about the country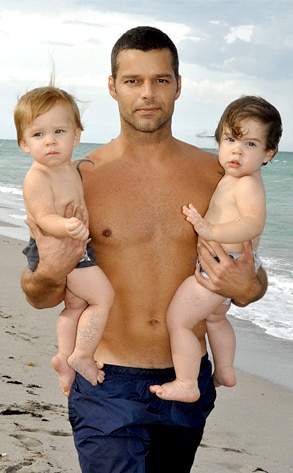 Ricky Martin
has revealed that he is a
gay
man. Martin — who has dodged questions of his sexuality for years — just posted the following message on
his official website
: "I am proud to say that I am a fortunate
homosexual
man. I am very blessed to be who I am." Martin says the
birth
of his twin sons led to his decision to come out — and according to the singer, "To keep living as I did up until today would be to indirectly diminish the glow that my kids where [sic] born with." Ricky's kids were born in August 2008.  
Mischa Barton had a rough night over the weekend in Hollywood. A spy reports that the "O.C." actress, who alternates between being on and off the wagon, rolled into Bar Marmont on Saturday alone and looking "totally out of it." Says our witness, "A few minutes after she comes in, she runs outside and vomits everywhere. And then she went back inside and hung out for the rest of the night." A rep for Barton declined to comment
Celine Dion is inviting fans to celebrate her 42nd birthday! The diva will soon be a resident headlining performer at The Colosseum at Caesars Palace in Las Vegas. VIP packages to the show offer the best seats in the house, dinners, drinks, and souvenirs. To get in on these perks, visit her website. Celine's birthday is today, but fans can wish her a happy 43rd in person when the show opens next year on March 15, 2011.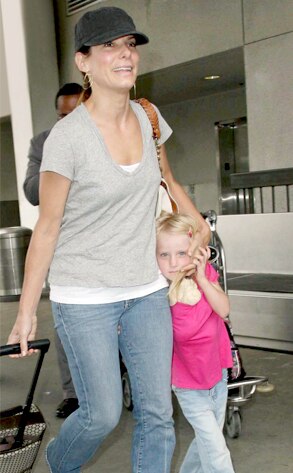 In addition to his mistresses, Jesse James has three things Sandra Bullock does not: his kids. As close as the Oscar winner has grown to her husband's three children—Chandler, 15, Jesse Jr., 12, and especially 6-year-old Sunny—she won't be getting custody of them regardless of what happens to her five-year marriage. "There are no plans, nor have there ever been any plans, for Sandra Bullock to adopt any of Jesse James' children," the actress's publicist says. Sandra has been active in the childrens' lives, especially that of Sunny, whom she stood behind during difficult custody battles between Jesse and his second wife, Janine Lindemulder.  A source close to the situation tells RadarOnline.com that Sandra has made the decision to pull the plug on the marriage. "She's had enough," the source said. "She's ending the marriage."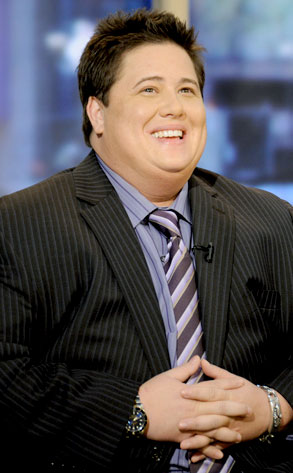 What's in a name? Plenty. Just ask Chastity Chaz Bono. Roughly a year after beginning the process of gender reassignment, Cher's oldest child with Sonny Bono has made a move to change his name to more accurately reflect who he is becoming—or, in his words, who he's always been. "Chaz Bono has filed a formal petition in California Superior Court to legally change his name and gender," the Transgender Law Center's Kristina Wertz told E! News. "He is legally changing his name from Chastity to Chaz as part of his gender transition." The 40-year-old Bono has been open about his ongoing process, telling Good Morning America last fall that, "gender is between your ears, not between your legs. I've felt male as far back as I can remember. As a child it was really clear. I felt like a boy." Fingers crossed, he'll soon be named like one. A hearing on the request is set for May 6.
FOX may have another reality series hit on their hands called My Parents Are Gonna Love You. Punk'd for the new generation, perhaps? Here's how the show will go down via THR: 1) Contestants will consist of everyday singles, who will bring home celebrity fiance(e)s to meet their parents. 2) The celebrities will act as obnoxious as they can but the longer the contestant can pull off the prank, the more money they win for their parents.
James Franco may be hitting the books … again. The actor, 31, has been accepted to Yale University's English Ph.D program, the Yale Herald reports, adding that he will begin coursework in September.  Franco recently received his MFA at Columbia University — where he was famously photographed sleeping through class in a lecture hall last year — in New York City. He completed his undergraduate degree at UCLA and also went to film school in New York. 


 
Fresh off her recent break-up with NFL star/beau Reggie Bush, reality TV beauty Kim Kardashian appeared somewhat glum (or maybe just intense?) as she and mom Kris were photographed at the Sony Ericsson Open in Key Biscayne, Florida on Monday and RadarOnline.com has the pics. Interestingly, while Kim was in Florida, her ex, Reggie, was chatting it up on the Rachael Ray Show in New York — promoting Tupperware of all things! While Ray never asked Reggie point-blank about the breakup (darn it!), an audience member did ask the New Orleans Saints running back if he ever got used to having his every move videotaped when he appeared  on Kim's hit reality TV show Keeping Up with the Kardashians. "Honestly, as far as to follow me around all the time, I wouldn't like it at all," Reggie said. "I play football and most football players we're kind of camera shy outside of football – we just kind of want to be left alone. For me, I got enough cameras on me on the football field!"
RadarOnline.com
has these pics of the Metropole
Hotel
South Beach, the four walls that will house
Snooki
,
The Situation
and the gang for the second season of MTV's wildly-popular reality show,
Jersey Shore.   The Metropole Hotel

South Beach

, according to its' Web site, "offers understated elegance and unparalleled service in an intimate, friendly,

home

-away from home atmosphere" in its' quest to provide a "residential feel ideal for those seeking calm, in the midst of the action." (Somehow, we don't think things will remain too calm with his crowd.)
Rip Torn just pled not guilty to gun and burglary charges — over an incident in January where cops say the actor was so drunk, he broke into a bank with a loaded gun because he thought it was his own house. Torn appeared in Litchfield County Court in Connecticut this morning, where he faced charges of first-degree burglary, carrying a pistol without a permit, carrying a firearm while intoxicated, second-degree criminal trespass, and third-degree criminal mischief. Torn's attorney told he court that Rip is making progress in his alcohol rehabilitation program and has moved from an inpatient to an outpatient program. Rip is due back in court on April 27.