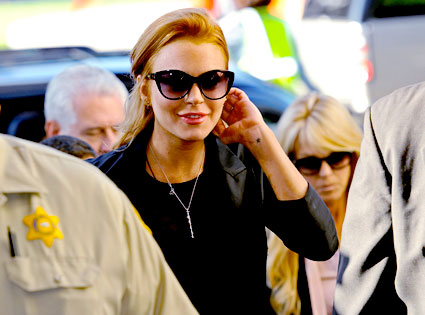 Lindsay Lohan tried to change her image this weekend by visiting the Dream Center homeless shelter in Los Angeles with her mom and sister Ali.  And Linsday has said that she will check herself into a live-in rehab center withing the next few days.   And her father left threatening texts and messages on Lindsay's lawyer's phone.  He even admits to it!  
UPDATE: Michael says: "It's true. I said those things … but it's spun. I wasn't knocking Shawn for working all those hours … I was knocking the fact that I told them to do this [send Lindsay to rehab] a long time ago. Just now they're listening."
And new photos of Lindsay holding syringes and making out with Paris Hilton have surfaced today.  Click here to see them.
Here are some spoiler for tonight's Dancing with the Stars:
— Rick Fox and Cheryl Burke — "Tush" (jive)
— Florence Henderson and Corky Ballas — "Suddenly I See" (quickstep)
— Brandy and Maks Chmerkovskiy — "Magic" (jive)
— Michael Bolton and Chelsie Hightower — "Hound Dog" (quickstep)
— Audrina Patridge and Tony Dovalani — "Love Machine" (quickstep)
— Jennifer Grey and Derek Hough — "Shake It" (jive)
— Margaret Cho and Louis Van Amstel — "Dreaming" (jive)
— Kyle Massey and Lacey Schwimmer— "I Want You To" (quickstep)
— Kurt Warner and Anna Trebunskaya — "Danger Zone" (jive)
— Bristol Palin and Mark Ballas — "You Can't Hurry Love" (quickstep)
— The Situation and Karina Smirnoff — "We No Speak Americano" (quickstep)
As for the celeb singers, [lastfm]Seal[/lastfm] will sing his new song, "Weight of My Mistake," Tuesday night, and [lastfm]Janelle Monae[/lastfm] will sing "Tightrope."
Nadya Suleman had a yard sale to raise money to save her house!
She is behind about $7,500 on her mortgage payments — plus she owes a whopping $450,000 balloon payment which is due October 9.  She was charging $10 for a photo with her.
Glee is said to be planning a second [lastfm]Britney Spears[/lastfm] themed episode, which will air in early 2011, right after the Super Bowl.
Wow, Bret Michaels poses for Billboard…Situation who?
Bones actress Emily Deschanel married David Hornsby in a private ceremony in Los Angeles this weekend. Hornsby is an actor and producer on It's Always Sunny in Philadelphia and the couple have been together for three years.
Jackass' Johnny Knoxville married girlfriend of two years, Naomi Nelson, this weekend.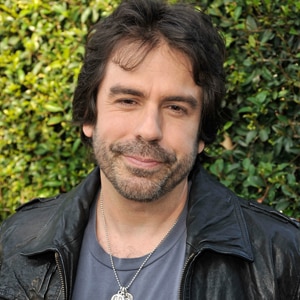 Last Comic Standing judge Greg Giraldo was rushed to Robert Wood Johnson University Hospital in New Brunswick, N.J., Saturday, after an accidental drug overdose.  He's known for his appearances on Comedy Central roasts and the Howard Stern Show, collapsed in his New Jersey hotel room.  Giraldo is reportedly in critical but stable condition.
Jersey Shore star Nicole "Snooki" Polizzi was hospitalized for alcohol poisoning in Miami in May.   "She was so drunk that she had to be carried out of the nightclub 'Dream' by the show's producers."  The scene was supposed to appear this past Thursday but producers cut the scene.
Tiger Wood's main mistress Rachel Uchitel has been accepted into two graduate schools: one is a masters in criminal justice and the other is for a masters in forensic psychology.  And she is now an ordained minister.
Lady Gaga and boyfriend Luc Carl were together in NY on Saturday,  the day after her beloved "grandpa" passed away. The singer lost her grandfather Joseph Germanotta on Friday. Gaga had occasionally spoken about the 88-year-old in recent tour appearances, even dedicating the song "Speechless" to the World War ll vet during one show.
No charges will be filed against Real Housewive's of Orange County's Simon Robert Barney despite his wife Tamra's claim that he threw a dog leash at her because of a lack of sufficient evidence.  Tamra says that she has been a victim of abuse for years from Simon.
At the box office this weekend:
1. Wall Street 19.9 million
2. Legend of the Guardians: The Owls of Ga'Hoole $16.3
3. The Town $16 million