Every season on Dancing with the Stars someone gets hurt.  So who's the frist this season? Audrina Patridge injured her ankle during rehearsals yesterday.   Paramedics were called and told Audrina she has a minor sprain and Audrina is "pushing through."  And guess who's performing tomorrow night on the show?

Susan Boyle will perform on Tuesday's live show.  She'll sing "Hallelujah" by Leonard Cohen.
Mel Gibson is concerned over Oksana's  bodyguard/key man Kristian Otto Herzog. He's a convicted felon who impersonated a police officer (with firearms) two times.  Mel is upset that Kristian is around the baby constantly and Oksana has refused to keep Herzog away from the baby.
Also, a camera crew from the "Oprah" show was at Oksana's home in Sherman Oaks on Friday to shoot some footage for Oksana's upcoming appearance.
Real Housewives of DC couple Michaele and Tareq Salahi, who are famous for their "alleged" unwelcome gate crashing of a White House party, are filing for bankruptcy for a second time!  This time it's  for another one of their companies, America's Polo Cup Inc. The couple's company Oasis Winery also also went into bankruptcy last year.
And Tareq and Michaele Salahi auctioned off the alleged dress Michaele  wore when she and her alleged husband allegedly crashed the White House. The dress ended up selling for $7,000.   Supposedly the money will go to charity.
Britney Spears is being sued by a former nanny who claims Britney owes her$35,202 for one month's work. Ferial Zaltash claims Britney hired her as a personal assistant and nanny to her children in September, 2007.  But Zaltash  resigned a month later.  The suit claims Zaltash made a demand for payment but Brit refused.  Britney was also seen this weekend with new star and flower tattoos on her neck, permanent?
Bruno Mars has officially been charged with one felony count of possession of a controlled substance following his cocaine arrest last month in Las Vegas …
Lindsay Lohan is reportedly staging a photo shoot so she can sell the exclusives images to the highest bidder!
A source explains:
"Lindsay hasn't worked in so long that the only way she makes money now is from selling photographs. She can make an easy $30,000 to $40,000 a pop for a few hours work. However pictures of her in rehab getting better could sell for as much as $100,000. Nothing with Lindsay surprises me anyone. You would think she would be focusing on dealing with her addictions not staying photo shoots. But this is who this girl is. She never thinks about the long-term solution but rather is always looking for the quick fix."
Courtney Love loves to tweet suggestive photos of herself and post them on Facebook. This week she did it again, tweeting the a photo without comment or explanation.
We know that David Beckham is suing the call girl that claims David hired her back in 2007.  Well, now the call girl is countersuing him for emotional and physical injuries. Nici claims that she was physically injured when the process server arrived at her New York hotel last week.
The movie about Facebook, Social Network, topped the box office this weekend, making roughly $23 million at the domestic box office.
Sources say that Sony Pictures Entertainment offered the role of the newly-adapted Spider-Man's Mary Jane Watson to Emma Stone! Emma will be taking over the role that was played by Kirsten Dunst in the first three films.
Catherine Zeta-Jones was scheduled to stay in Wales to watch the Ryder Cup, however yesterday she was spotted leaving the country early to go back to New York to be by her husband's side.
Jersey Shore pulled in 6.7 million viewers, and a 3.4 rating in the 18-49 age range in their last episode.
Prince Frederic Von Anhalt is saying that his wife, Zsa Zsa Gabor, has been removed from the feeding tube and is eating all on her own! He explains: "She has been eating mashed potatoes and matzo ball soup and drinking orange juice on her own. There is no need for the feeding tube any longer so we are having it removed right now."
Harry Potter author J.K. Rowling revealed on The Oprah Winfrey Show that she hasn't closed the book just yet on the Harry Potter series.
The billionaire author told Oprah, "I could definitely write an eighth, ninth, tenth. I'm not going to say I won't. I don't think I will … I feel I am done, but you never know."
While The Real Housewives of New York City were shooting scenes at some event,  somebody broke into a production van belonging to the hit Bravo reality series and made off with approximately $30,000 worth of equipment.
Dog the Bounty Hunter was hospitalized Saturday after what wife Beth Chapman calls an "occupational hazard." "He was admitted for tests for a possible blood clot following an injury he suffered on a bounty hunt," Chapman stated on her husband's official website.   And just to further ease our minds, Beth tweeted Sunday morning: "Yes dog is injured it is an occupational hazard that we deal with he is very strong and in excellent condition he will 4 sure survive :)"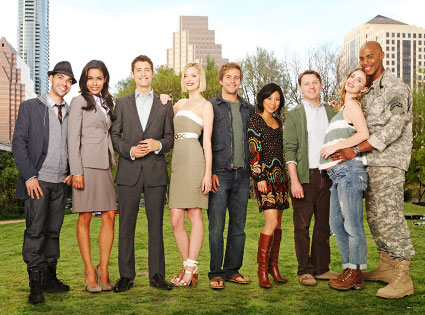 ABC's My Generation is the second new fall TV series to be canceled.
The ensemble drama was set in Texas and was formatted as a documentary following up on the adult lives of teens who had been interviewed and filmed while still in high school.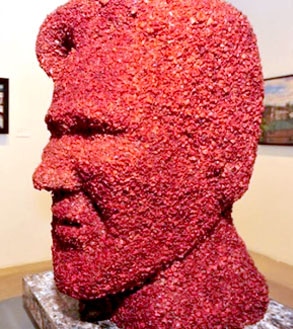 Kevin Bacon made out of bacon and bacon bits. Dubbed the "Bacon Kevin Bacon," the bust by artist Mike Lahue is being auctioned off on eBay with all proceeds going toward Ashley's Team, a nonprofit organization designed to bring joy to children with cancer
Diddy wore a traditional Scottish kilt during a Diddy-Dirty Money concert in Glasgow on Wednesday.
Settlement talks in the defamation lawsuit against The Real Housewives of New Jersey's most controversial resident Danielle Staub have finally ended in a financial agreement.  Looks like Jacqueline won't have to testify.
60 MINUTES/Vanity Fair held a most eligible single woman in the world poll and it was released Monday.
1.  Jennifer Aniston 29%
2.  Halle Berry (21 percent)
3.  Elin Nordegren (15 percent)
4.  Betty White (11 percent);
5. Lady Gaga (5 percent)
6.   Associate Justice of the Supreme Court of the United States, Elena Kagan (4 percent).
Comments
More From 96.5 TIC FM – Hartford's Best Variety