Another celebrity couple splits! [lastfm]Christina Auguilera[/lastfm] and Jordan Bratman "have been separated for a few months." according to a close source of the two.  They "have not yet decided whether to divorce, the source reveals, "they are now living apart, and they will see how that goes."
So what happened? "They were very much in love," explains the insider. "But over the last six months, it ­became clear they were more like friends than husband and wife."The source adds that Aguilera even "­proposed their August trip to Italy to ­rekindle their relationship, but it didn't help."  They have a 2 year old son.
[lastfm]Katy Perry[/lastfm]  along with [lastfm]Akon [/lastfm]will perform at this year's Victoria's Secret Fashion Show.  The show airs at 10 p.m. ET/PT on Nov. 30 on CBS.
Dina Lohan was warned by law enforcement seven years ago that her daughter Lindsay was out of control in Hollywood, but she did absolutely nothing about it.
Back in 2003, when Lindsay was 17, she had a stalker so she had an investigator assigned to follow Lindsay around town to protect her and possibly bust the stalker.  The guy became concerned over her drinking so law enforcement then contacted Dina to give her the heads-up.
After 11 years of marriage, Courtney Cox and David Arquette have separated, actually they've been for several months.  No lawyers are involved yet as they try and decide what to do. They still have a business relationship (they're taping the new Scream movie).    And David is talking…
Here are the details:
–  Arquette says that Courtney is the one that initiated the separation right after their 11th wedding anniverary after she told David that she was "tired of being your mother."   And that they decided they could see other people.
–  Arquette says that he and Courtney haven't had sex in 4 months and that he slept with Jasmine Waltz (the woman on the right after they separated) "I did have sex with her one time, maybe twice… my sexual encounter made me pretty feel manly."   He says he never cheated on her before they split.
–  Jasmine Waltz is a former Hollywood cocktail, the same waitress that punched Lindsay Lohan inside Voyeur back in July.  Over the past year and a half, 28-year-old Waltz has been connected with at least five other celebs — including Ryan Seacrest, Chris Pine and Jesse McCartney, and Jersey Shore's Vinny.
–   Arquette also said he is hopeful he and Courteney can patch things up and get back together.
–  Arquette said he knew Cox and BrianVan Holt (plays her ex-husband on the show "Cougar Town") were involved in an "emotional affair" but was not aware if it had become physical.
–  They told their daughter on the beach about the separation and are trying to figure out if they'll divorce.
– Arquette said he'd never go after Cox's Friends co-star Jennifer Aniston, and that he'd never been attracted to her.
–  Arquette also said that he didn't have an issue with Cox's age – she's 46, he's 39. In fact, he said, she was more hung up on their age difference.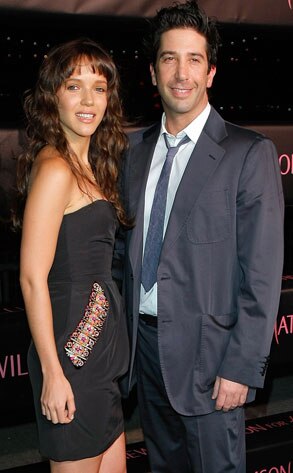 David Schwimmer got married to girlfriend Zoe Buckman privately in early June!
So not only did Oprah interview Katherine Jackson but she also interviewed his 3 kids!!  It will air in the next few weeks.
Carrie Fisher played Princess Leia in Star Wars. Currently, she is on a promotional tour talking about her new stage adaptation to her memoir, Wishful Drinking. During one of her interviews, she shocked fans by confessing that she'd snorted cocaine while on the set of The Empire Strikes Back!
She told sources:
"We did cocaine on the set of Empire, in the ice planet. I didn't even like coke that much, it was just a case of getting on whatever train I needed to take to get high."
US Weekly is reporting that Real Housewives of New York star Jill Zarin is after her own show. She is "taking meetings" with people to get the ball rolling, but reportedly none of these meetings have been with Bravo! 
Pirates of The Caribbean is shooting now and Penelope Cruz is in the movie and her baby bump is growing faster than expected.  So they're using a double – her sister – Monica, has stepped in to do distance shots and full body shots.
Mariah Carey celebrated Nick Cannon's 30th bday over the weekend.  On Friday they both were together at the NYC party and Mariah hid most of the time avoiding pictures.  She wore a coat and went out the back entrance with Nick, she didn't drink  and  "She didn't eat a thing at the party, then ordered one of everything on the menu, plus two extra-cheese raviolis, to go. Then on Saturday, to everyone's surprise, she didn't appear at the LA party…hmmm
Fifteen years before his 1981 hit "Jessie's Girl" made him a household name, rocker Rick Springfield tried to commit suicide over his looks. He writes in his new memoir, "Late, Late at Night" (Simon & Schuster) that he tried to hang himself at age 17 when he felt "as ugly as the ass end of a female baboon at mating season." He hung for about 20 seconds from a ceiling beam but miraculously, the noose undid itself. "From this point on, music will become my salvation and save me from most serious self-inflicted harm," he writes.

Here are the scores from last night's Dancing with the Stars:
Jennifer Grey & Derek Hough: 56 (27, 29)
Brandy & Maks Chmerkovskiy: 48 (22, 26)
Audrina Patridge & Tony Dovolani: 46 (24, 22)
Kyle Massey & Lacey Schwimmer: 40 (18, 22)
Rick Fox & Cheryl Burke: 39 (19, 20)
Florence Henderson & Corky Ballas: 35 (17, 18)
Kurt Warner & Anna Trebunskaya: 34 (15, 19)
Bristol Palin & Mark Ballas: 32 (18, 14)
The Situation & Karina Smirnoff: 28 (12,16)
The Situation received the lowest score and stormed off.  He was spotted sulking in the parking lot, smoking a cigarette and shaking his head while a friend tried to console him.
Judge Bruno Tonioli called his tango "a terrible mess"; Carrie Ann Inaba said it was a "rough ride." "I don't know what their deal was. I really don't know," Sorrentino, 27, later told UsMagazine.com. "I was upset. I actually stormed off upset because I tried so hard. I really did. I changed my haircut, I don't know." He said he was impressed he and partner Karina Smirnoff pulled off the lifts.
"I was upset. I actually stormed off upset because I tried so hard. I really did. I changed my haircut, I don't know…Once I landed all those lifts and the judges were trashing me? I'll be honest with you, it was in one ear and out the other. In the back of my head, I knew those lifts were extremely hard. I tried my best, and if they didn't see it and wanted to be negative, so be it."
Click
here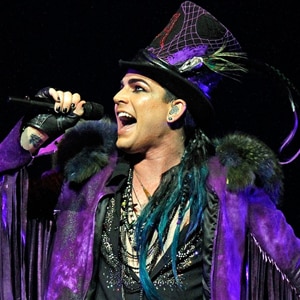 Adam Lambert's tweeted that he's dialing back the flamboyant man-on-man action for the Malaysian leg of his Glam Nation tour:
"While I don't believe that my glamnation tour is in any way offensive I have agreed to make a few minor adjustments out of respect for the Malaysian government. Looking forward to a fun show."
Kim Kardashian said that she had regrets posing naked for Playboy, but she's butt naked and topless in the November issue of W Magazine!   I've seen the pictures and obviously can't post them here but they're on the internet.  She wears silver body paint in the pictures but you can still see…
Comments
More From 96.5 TIC FM – Hartford's Best Variety