Yikes!!! Was spray tan running down her legs or did Christina Aguilera have an "accident"??  Christina performed at Etta James' memorial service over the weekend.  When she walked out she started scratching her leg??  And now pictures show that during the performance she had something running down her legs…what was it??? Click HERE to see the upclose pictures.  Some people are claiming it's spray tan while others think she got her period…you decide.
[cbs-twochop idtype="1″ id="8190546522311141215″]
It's official!!!  Adele will perform at the Grammy Awards!!!  It will be her first appearance in 5 months after having throat surgery.
Wow!! Simon is cleaning house on The X Factor!!  Nicole Scherzinger and Steve Jones were let go from the show yesterday and now Paula Abdul too!! Paula didn't even hear it from Simon.  Rumors were swirling last week that Mariah Carey would be a new judge on the show…
In one episode of Joan River's reality show she shows what she looked like without makeup right before having plastic surgery.  In another episode she gets some medicinal marijuana after the surgery to ease her pain.  She said it's been a long time since she's smoked…she said she hadn't smoked pot since the "dark ages," when she would would get high with Betty White!!!!
"I believe that they were looking at Vegas and Australia, two places I would love to go," Jersey Shore's Ronnie Ortiz-Magro says about the next seasons of the show. "I don't know if we would make it back from Vegas, but I'm pretty sure we would love to go to Vegas."  Ronnie also said they were thinking about Brazil but were worried about security concerns.
Miley Cyrus broke her butt!!!  She tweeted: "cracked my tail bone doing a front flip… on to the couch. thats like when i tripped over a pillow and broke my arm"
Rihanna bought a Marilyn Monroe portrait that is made with 65,000 Swarovski crystals and it "constantly" changes color, and it "sends rainbows of light round the room."
The Kardashian sisters, Kim, Khloe and Kourtney go topless in their ad to promote their new jean line for Sears.  Click HERE to see the ad
Chord Overstreet and Emma Roberts have called it quits after nine months together. "They're just on two different paths in life," a source says of the couple's decision to split. "They just grew apart and decided to part ways."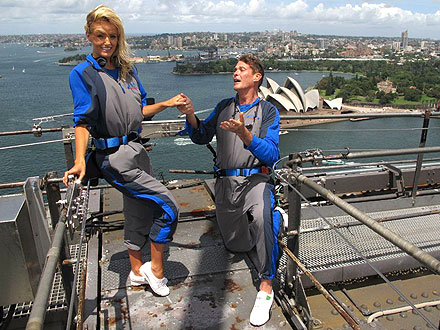 David Hasselhoff, 59, is engaged to his 32 year old girlfriend of about a year.  This is the 3rd time he's asked her and she finally said yes!!!  He tweeted a picture of his proposal "Tried it again on top of the Sydney harbour bridge!"
She tweeted: ":)))))) xxxxxxxxxxxx"
AskMen.com's Top 99 Most Desirable Women of 2012 list is out.
1. Modern Family's Sofia Vergara
2.  Model Kate Upton
3.  Girl with the Dragon Tattoo's Rooney Mara
4.  Miranda Kerr
5. Nicki Minaj
6. Emma Stone
7. Scarlett Johansson
8. Kim Kardashian
9. Rihanna
10. Model Candice Swanepoel
Comments
More From 96.5 TIC FM – Hartford's Best Variety